Het is winter, de bomen zijn kaal en naakt. Zo zonder blad laten ze hun skelet zien. Van de boom tegenover mijn huis heb ik een jaar lang in alle seizoenen foto's gemaakt. Blader ik door het plakboekje dan is het opvallend dat hij een halfjaar kaal is en dat er een halfjaar blaadjes zijn. Sinds ik dat weet, volg ik dat levensproces nauwgezet. In die boom zit beweging zonder dat hij wegloopt. 
Kan ik ook aan het skelet van die boom zien dat het een bonte esdoorn is? Nee, van kale bomen herken ik er slechts één. Dat is een berk, vanwege zijn witte stam. Ik kan me wel voorstellen dat een deskundige op het gebied van bomen ook aan de stam en de opbouw van de takken kan zien wat voor boom het is.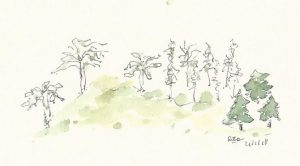 En het menselijk skelet? Hoe zou het zijn om een los botje van een voet of een hand of een willekeurige borst- of lendenwervel in je hand gedrukt te krijgen met de vraag: Kan jij dit botje duiden? Een arm of een been is direct herkenbaar, maar zo'n los botje uit de pols of een kootje uit de voet? Als fysiotherapeut heb je zeker met het skelet te maken, maar dan is het meer zoals met het proces van die blaadjes, dat is beweeglijker.