In de trein richting Parijs wordt me gevraagd of ik platwater of bruiswater wens. Het Vlaams heeft prachtige woorden. Water is water, maar hoe kijk je er naar en hoe benoem je het? Wat kijken wij vanuit de Nederlandse taal dan saai. Water is water of gespecificeerd: kraanwater. Dat is water zonder prik. Water met prik benoemen we doorgaans naar het merk: een Spa-tje.
Nog een voorbeeld: wij hebben het over een vouwfiets. Klinkt plooifiets niet veel aardiger? Een fiets die zich zo plooit dat hij minder ruimte inneemt en hanteerbaar wordt als een koffer.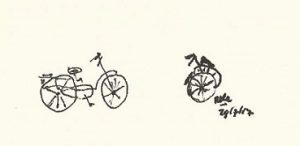 Prik is iets wat je voelt, maar bruisen hoor je. Eau con gaz zegt het al dat de gasbelletjes in het water naar boven borrelen. Dat is beweging!
Vouwen is de handeling nodig om een fiets van volume te laten veranderen, meestal kleiner. En plooien? We hebben het wel over een plooirok, dat is grappig want die plooien kunnen een rok juist groter maken. We houden ons gezicht in de plooi als dat wenselijk is. Ja, die fiets moet ook maar in de plooi blijven als hij opgevouwen is.