In Nara (Japan) valt mijn oog op deze afbeelding van een fluitspeler in een lantaarn voor de tempel met de meer dan levensgrote Boeddha.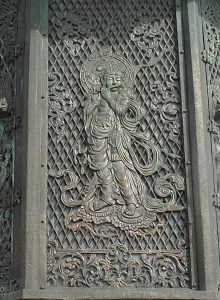 Ik denk aan een andere afbeelding: het schilderij van de fluitspeler van de Franse schilder Édouard Manet *. 
Beide fluitspelers staan op dezelfde manier, teruggetrokken op hun rechterbeen. Is het een pose? Of het moment rond een adempauze? Of spelen ze héél zacht?
Van een plaatje is alle interpretatie mogelijk, het is maar net met wat voor oog je kijkt.
Bij het aanklikken is het schilderij zichtbaar