Ieder jaar weer lijkt het gewone bestaan te stoppen met Kerst, of eigenlijk al halverwege deze maand. Komt dat gevoel door de donkere dagen? Er is een vreemde drang in ons dat er van alles afgerond moet worden om daarna rustig te kunnen zitten en ja wat dan? Uitgeput in een vreemde leegte terechtkomen?
Of samen de kerstpuzzel uit het Dagblad maken, een boek in een ruk door uitlezen, naar de film, naar een museum, wandelen ergens buiten en niemand tegenkomen. Als kind gingen we altijd met mijn vader naar het circus in Carré…
Andere dingen doen dan gewoon, tot de eerste werkdag van het nieuwe jaar aangebroken is en alles weer rustig op de oude voet verder gaat.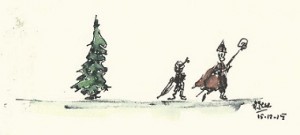 Waarom die decemberstress vooraf? Veel kan ook in januari, een saaie maand die wel wat versierd kan worden na alle overdaad van december. Toen ik dat in de gaten kreeg, werd december een écht gezellige maand en is dit een saai stukje over het gewone doen.