'Oefening baart kunst' is een gangbare uitdrukking, net als 'aldoende leert men'. Nog eentje: 'Geef een timmerman een hamer en hij vindt een spijker om op te slaan'. Of is het dat hij een spijker heeft en op zoek gaat naar iets om mee te timmeren? Ieder beroep vraagt oefening en heb je de smaak eenmaal te pakken dan laat het je niet meer los. Ook voor liefhebberijen gaat dat op (zie het blog d.d. 11 oktober 2015).
Door mijn geworstel om het chinese penseel te begrijpen, zie ik overal penseelstreken.
Bij gebloemde gordijnen, die al ruim tien jaar hangen, valt me ineens op hoe het blad geschilderd is. Ik voel het al bijna aan mijn arm hoe die penseelstreek uitgevoerd is.
In het blad van een levende plant meen ik geschilderd bamboeblad te herkennen.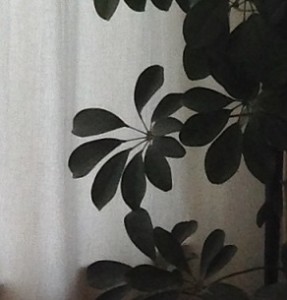 Is er werkelijk een samenhang of ben ik zo geobsedeerd door die oefening om bamboe – stengel en blad – te schilderen?
Het neemt niet weg dat ik kleine vorderingen maak. Neerzetten, druk geven, in de beweging blijven en terugnemen. Bijna zoals met massage waarbij de aanwijzingen 'Binden und Lösen' en 'Ritme' steeds terugkomen.
Zie, daar heb je het weer…die timmerman en zijn spijker!