Wat doet u na het ontwaken? Bent u geschrokken van de wekker en springt halsoverkop het bed uit? Behoort u tot de matineuze typen, die ver voor het alarmerende geluid van de wekker al wakker zijn en liggen te woelen in hun bed? Of ontwaakt u op een prettig moment, rekt zich uit als een hond of een kat, overdenkt hoe uw dag er mogelijkerwijs uit zal gaan zien… U draait zich nog eens rechts om en dan linksom, komt op uw zij, de rechterhand op het matras en duwt uzelf omhoog, terwijl uw benen als contragewicht naar de vloer gaan. Kortom u kiept overeind, u laat uw voeten uw pantoffels zoeken en gaat rustig staan. U rekt zich nog eens uit en begint de dag.
Persoonlijk behoor ik doorgaans tot de laatste categorie ontwakers. Toevallig gaf een peentje een prachtig voorbeeld van hoe ik me graag nog even omdraai. Tussen de bos worteltjes zat er eentje met een bijzonderheid: het heeft twee benen!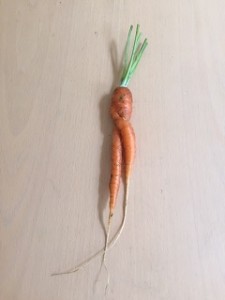 Zoals een worteltje draai je je dan nog even op je buik met het ene been over het andere om je dan lekker nog wat uit te strekken terwijl je je niet verheft.
Over het verheffen terwijl je op je buik ligt, zie het blog d.d. 23 mei 2010!
Maar blijf niet liggen of draaien, we kregen het mee: 'Sta op en wandel!'
Daarover meer, volgende week…