Stiefelen, stroffelen, smikkelen en kokkerellen…
Woorden die zelden nog gebezigd worden. Stroffelen en stiefelen, kuieren en tippelen zijn nuances van lopen die niet goed uit te leggen zijn. Stroffelen lijkt op sloffen en struikelen tegelijk, toch is het anders. Je herkent het wanneer je het ziet of zelf overkomt.
Iemand, die kokkerelt, is met plezier bezig in de keuken. Misschien met een schort voor. Vervolgens is de persoon, die dat met smaak opeet, aan het smikkelen. Smikkelen kan natuurlijk ook van een schaaltje met iets lekkers bij de thee.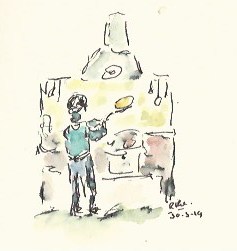 Stiefelen, kuieren, kokkerellen en smikkelen we dit nog wel? Vast! Alleen met andere woorden of vastgelegd op een filmpje, inhoudelijk blijven we toch hetzelfde doen.