Ook een bed of behandelbank kan soms omhoog en omlaag. Aangezien we over het algemeen niet willen blijven liggen, komen we van dat bed of bank af.
De wekker gaat! Help, paniek en met een sprong het bed uit…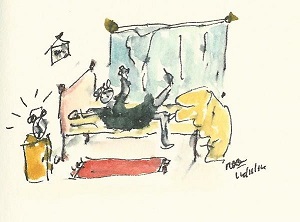 Dansers doen het efficiënt, buigen een been, pakken onder de knie vast en komen met het been wat zich strekt mee omhoog.
Kleine kinderen, waarbij in verhouding het hoofd nog te zwaar is tot het onderlijf, zullen altijd via een draai omhoog komen. Héél efficiënt! Iedereen, die wel eens rugpijn gehad heeft, gaat dat door de omstandigheden gedwongen weer op die manier doen of worden erop geattendeerd om het zo te doen…